Choosing The Right Lingerie Colors
All women are made differently, and consequently, different colored lingerie will look different on everyone! There are plenty of factors to consider when picking out what will work well for you, such as your hair, eyes, and skin. You can build off of your features to make yourself look like a complete knockout.
Let's start with hair. Blondes often do well with soft, light colors such as soft pinks, white/cream, lavender, etc. Darker colors tend to distract from blonde women's features. However, if you are going for a bold look, dark colors can work great! Brunettes look incredible in strong colors. Earth tones and vibrant prints specifically work very well with dark haired women. Redheads really shine in colors with a spark to them, such as reds, bright blues and lively greens.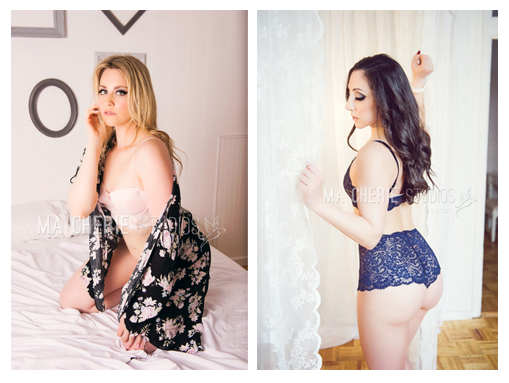 Eye color is important to consider, as well. Blue eyed ladies naturally wear blues well - any shade from light to dark. Similarly, women with green eyes look lovely in greens of any shade. Green eyes also pop when wearing reds or floral prints that mix reds and greens. The lucky ladies with hazel eyes look terrific in all earth tones, greens and blues. Eyes are one of your sexiest assets, so make sure to think about accentuating your eyes.
Finally, think about your skin tone. You do not want the lingerie color to overpower your natural skin color, nor do you want it to blend in. If you have a fair complexion, it is best to stick with pastels and powder colors, unless you are matching your hair or eye color. Women with a more mid-range skin tone can wear stronger colors, but again, first consider your hair and eye color. Women who have dark skin have a wide selection of colors that would look terrific - dark colors work nicely, and light colors offer a bold contrast. Daring patterns also look amazing for a bold twist!
Nude lingerie can look amazing, but be conscious of your skin color! Any nude tone that is too close to your skin color can look strange in photographs. However, if the nude tone is lighter or darker than your skin, it can be easily played up with great statement jewelry or fun shoes with a pop of color.
Remember: the key is to accentuate your attributes, because that is what makes you sexy - not the lingerie!
Hope this helps! Happy shopping :)
Xoxo,
J